Archive for November, 2009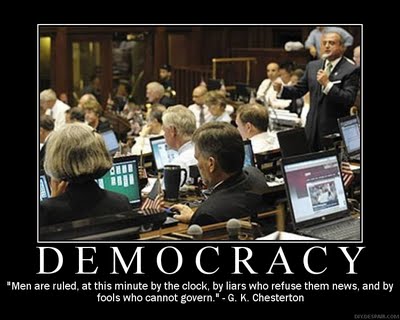 "Men are ruled, at this minute by the clock, by liars who refuse them news, and by fools who cannot govern."
– G. K. Chesterton
Former clinic director: Church chilly to my pro-life turn
Whereas clergy and parishioners welcomed her as a Planned Parenthood employee, now they are buttonholing her after Sunday services.

"Now that I have taken this stand, some of the people there are not accepting of that," she told The Washington Times. "People have told me they disagree with my choice. One of the things I've been told is that as Episcopalians, we embrace our differences and disagreements. While I agree with that, I am not sure I can go to a place where I don't feel I am welcome."

…

The couple made St. Francis their home. They were confirmed Episcopalians, and their daughter, now 3, was baptized there. A photo on the front page of the church's Web site, stfrancisonline.org, shows her seated at the right end of the front row, holding a girl dressed in pink. Her husband, dressed in an orange shirt, is to her right.

"Chief among our values," says a statement below the photo, "are service, tolerance and understanding of the people and events that God has put into our lives."

Now the Johnsons are "reconsidering" their membership. Another Planned Parenthood staffer who was a member of St. Francis has not attended since Mrs. Johnson made her new views public a month ago.
I wish I could say I'm surprised. But "we embrace our differences and disagreements" actually means "you will be assimilated." Since Mr. Johnson has rejected the Borg programming, she now needs to be expelled from the collective.
Because, after all, one can't tolerate the "intolerant."